If you already have an account, log in to see the bonus content. If you don't have an account, register for free. All I need is your name and email for instant access.
Note: The bonus content may contain spoilers, so I would highly suggest reading the book first.
I respect your privacy and take it very seriously. No spam. Ever.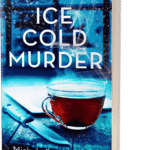 ---
Can't get enough of Charlie? I've got you covered. Keep going with book 2, Ice Cold Murder.
What do you get when you combine an estranged family, a blizzard, a haunted house … and murder? The world's WORST family gathering. Ever.
---
If you enjoyed The Murder Before Christmas, it would be wonderful if you would take a few minutes to leave a review and rating on Amazon, Goodreads or Bookbub. (Feel free to follow me on any of those platforms as well.) I thank you and other readers will thank you (as your reviews will help other readers find my books.)
The Charlie Kingsley Mysteries series is a spin-off from my award-winning Secrets of Redemption series. Secrets of Redemption is a little different from the Charlie Kingsley Mysteries, as it's more psychological suspense, but it's still clean like a cozy.