As promised, here's where you can get your free novella of "The Secret Diary of Helen Blackstone."
Download "Secret Diary" right here.
This novella is part of my award-winning "Secrets of Redemption" series. If you haven't checked it out already, you can grab Books 1-3 Boxed Set right here.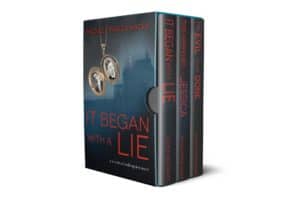 I also wanted to take this opportunity to welcome you to my community.
I'm Michele Pariza Wacek, also know as Michele PW, and I write psychological thrillers/mystery/suspense novels that include romance and a touch of paranormal (yes, I'm a bit of a genre bender).
You can check out all my books here.
While you're on my site, you may want to take a look at my blog, as I've got lots of great content and fun stuff happening there to entertain you between my new book launches. (I'm a reader too, so I get it. Authors take way too long to get their books out, don't they?) You'll discover posts such as:
• Book reviews and recommendations,
• Other short pieces of fiction and fun book posts,
And, if you want to read more about Riley, go here. Who's Riley, you ask? She's my fictional alter ego who is also a ghost hunter (think Bridget Jones as a ghost hunter).
I try to post something new at least once a week, along with sending out an email reminder (that way, you don't have to remember to go check the blog — I try to be helpful that way).
Happy reading!