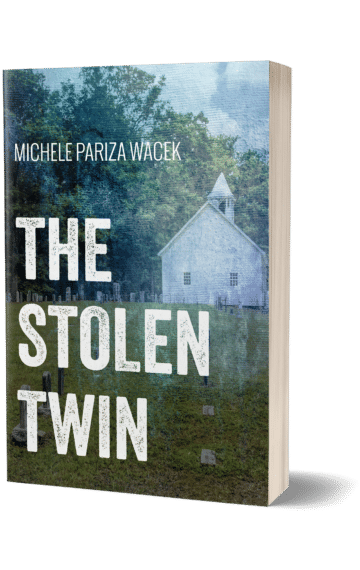 $3.99 (Or you can read for free in Kindle Unlimited)
Publisher:

Love-Based Publishing

Available in:

Paperback, Kindle, Audio

ISBN:

978-0996826020
Kindle, Paperback or Audio at Amazon
Paperback at Barnes & Noble
Get it on Audio at Apple Books
But underneath, Kit's life is a charade, built on a foundation of secrets and lies, including one so dark it threatens to tear her world apart: her twin sister, Cat, was kidnapped when they were both seven, never to be heard from again.
That is, until one dark Halloween night.
But is it really Cat? Or is it someone else, someone playing a sinister and deadly game?
To save herself from imminent danger, Kit, with the help of Tommy and her friends, is forced to go back in time and confront her own personal demons, as she finally discovers what really happened to Cat, all those years ago.
Michele Pariza Wacek spins a page-turning and twisted tale in her debut paranormal thriller novel. Readers will soon discover that her main character is not the only one shrouded in mystery. Indeed, Wacek's first-person narrative is replete with quite an elusive, but well-defined, cast. While there is a small handful of players who appear to have their act together, many are designed not only as foils intended to bring out the best as well as the worst in Kit, but also as red herrings. They have passive-aggressive issues, vacillating between genuine kindness and concern to downright patronization, greed, and, in some cases, blatant manipulation. Readers undoubtedly will find themselves in a quandary when attempting to identify culprits. Wacek adds even more to the confusion by setting the plot's backdrop to a consistent foreboding mood, which is reflected in the seasons, weather, and time of day. Well-written and gripping from beginning to end, The Stolen Twin is a must read mystery.
RECOMMENDED by the US Review of Books
The Stolen Twin is a twisted, standalone psychological thriller mixed with romance and has an ending you'll never guess. It's a part of The Riverview Mysteries, and for more on how all my series fit together, start here.
Want a sneak peek of this bestseller? You can check out the excerpt here or grab a preview here. You can also read the story behind the story here.
In a book club? You can download book discussion questions here.