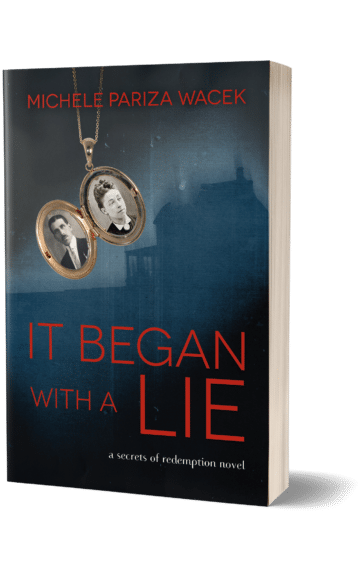 $3.99 (Or you can read for free in Kindle Unlimited)
Publisher:

Love-Based Publishing

Available in:

Paperback, Kindle

ISBN:

978-1945363986

Published:

September 10, 2018
Get it on Kindle or Paperback at Amazon
Get it on Paperback at Barnes and Noble
Book 1 of the Secrets of Redemption Series.
A fresh start. That was what Becca hoped the move from New York to Redemption, Wisconsin would be for her troubled family. A way to get her crumbling marriage back on track, and to bond with her difficult 16-year-old stepdaughter.
But instead of a new beginning, Becca is thrust into a mysterious past she barely remembers. A past that includes the complications of seeing her old teenage crush, Daniel, as well as living in her aunt's old house (what the locals call "The Witch House.")
But is the house really haunted? Or is there something far more sinister out to destroy them?
Michele Pariza Wacek carries the reader along on this journey, which has twists and turns to the very last page. Her characters become friends, some you want to spend more time with and some you come to despise. She casts a spell that will keep you enthralled. A can't miss novel from a dynamic author. 5 stars!

The International Review of Books
On the surface, Wacek employs all the devices of a standard haunted-house story full of ghosts and supernatural possessions. But her principal plot is also entangled with a mystery, family secrets, and a character study of a woman reconciling with her past that unveils before her eyes. Wacek's ambitious story is made more complex with layers of subplots that subtly build up the overall suspense. … The different storylines working together make sense, since not all is fully resolved, and this is the first of a planned series of books. As you read, waiting to see what happens next, you may be surprised by how it ends.

The US Review of Books
Don't miss Book 2 "This Happened to Jessica,"
Want a sneak peek? You can check out an excerpt right here or, if you're looking for a little more meat,  grab a preview right here.