Redemption, Wisconsin is not like any other town. Redemption decides who it wants to live in its town … and who it does not. This is the story of the birth of Redemption, the place where my award-winning series "Secrets of Redemption" takes place. You can get started with Chapter 1 here.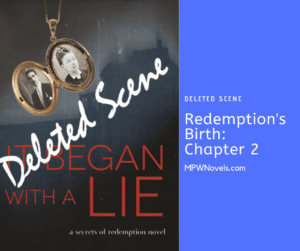 April 22, 1888
"But Father, I don't know what happened."
Young Fredrick stood hunched over in front of Father Murray, like he was bracing for punishment. His face was red and streaked with tears. He drew his sleeve across his nose.
Father Murray didn't like punishing Fredrick. He was only a child after all, likely not even eight years old. But all the older children had been carefully avoiding him, sliding out of conversations with furtive glances and quick, shuffling steps. 
Never rude, mind you. But definitely not open to answering questions. 
And Father Murray had questions. Lots and lots of them.
Finally, he had managed to corner Fredrick, who was way too obedient and submissive to withhold information. Surprisingly, though, Father Murray still wasn't getting any answers.
"You mean to tell me all the adults just disappeared one day?" Father Murray asked.
Fredrick nodded, hiccupping slightly. He had teared up as soon as Father Murray asked about his parents.
Father Murray put his hands on his hips and arranged his face in a most disapproving scowl. "The Lord doesn't like it when we lie, Fredrick."
"I'm not … not lying," Fredrick said, his voice breaking. "One night, everyone was here. Mother and father and everyone. Then …" his voice trailed off.
"Then, what?"
"I don't know. I was asleep," Fredrick said.
Father Murray didn't answer, instead scowling even harder.
Fredrick hung his head. "Someone came to the door."
Ah. Now we're getting somewhere, Father Murray thought. "Who came to the door?"
Fredrick shook his head. "I don't know. They didn't come in. Father put his coat on and went outside. After a minute, he opened the door to tell Mother to come in. Mother put her coat on and told us all to go to sleep, she would just be a minute."
Fredrick stopped talking. Father Murray waited, but Fredrick remained silent, staring at the ground and shuffling his feet.
What in the name of our Lord happened here?
"Then, what?" Father Murray pressed.
"I … I don't know."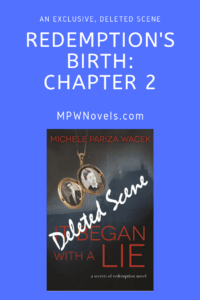 Father Murray closed his eyes briefly. "Fredrick," he said, his voice sharper than he intended. He was getting so frustrated. He sent up a quick prayer for patience and compassion.
"I don't know," Fredrick said again.
"How can you not know?"
"I … I must have fallen asleep. Because the next thing I remember, I was opening my eyes, and it was morning. And … they were gone." His voice dropped to a whisper.
"But … that doesn't make sense," Father Murray said. "Where did they go? How could you not hear anything?"
Fredrick hung his head.
"Was there a storm that night?"
Fredrick shook his head.
"Were there other people coming? Like … bad people?"
Fredrick shrugged and shook his head. "I don't know."
"Did anyone else see anything? Know anything?"
Fredrick shrugged. "I don't know. We don't talk about it."
Father Murray frowned. They don't talk about it? How could they not talk about it?
"So, that was it. Someone came to the door, and your parents left, and you fell asleep."
Fredrick nodded and wiped his nose again.
Father Murray pondered his options. What should he do now? Find another child? Go to another town to see about tracking down some sort of law enforcement to investigate?
Fredrick raised his head. "And the light," he said.
Father Murray's eyes widened. "Light? What light?"
"I saw the light when Mother opened the door," Fredrick began, but suddenly, his face turned white. His eyes sharpened, focusing on something behind Father Murray. "I have to go."
"What?"
Fredrick shook his head. "I have to get home."
"But, what about the light," Father Murray protested, but Fredrick had already darted away, his eyes glued to the ground.
What had just happened? Had he seen something? Father Murray whirled around, but there was nothing there—just the old, abandoned lean-to that had stood there on the outskirts of town for as long as Father Murray could remember.
Could someone have been in there? Father Murray squinted, but it appeared as empty and deserted as it always had.
Father Murray turned back to watch Fredrick hurry away. Something had frightened the boy. That much was obvious.
But, what?
Want to keep reading? Chapter 3 is here. For more on Redemption, Wisconsin, check out "It Began With a Lie," the first book in the award-winning Secrets of Redemption series.