The Wives Book Review
Thursday's husband, Seth, has two other wives. She's never met them, and she doesn't know anything about them. She agreed to this unusual arrangement because she's so crazy about him.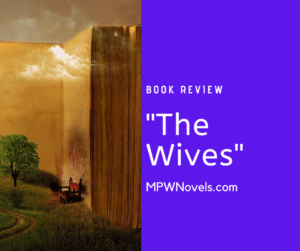 But one day, she finds something. Something that tells a very different—and horrifying—story about the man she married.
What follows is one of the most twisted, shocking thrillers you'll ever read.
Rarely do I find a book that lives up to a description like "one of the most twisted, shocking thrillers you'll ever read."
But, in the case of The Wives by Tarryn Fisher, it really DID turn into one of the most twisted, shocking thrillers I've read.
I picked it up because I was trying to get my head around the notion of a man having three wives. The fact that Thursday never met the other two was … odd. From the start, it didn't seem like a "typical' polygamous arrangement (if such a relationship can ever be called "typical"), because from what I've read and the people I know who are in that type of relationship, everyone knows everyone.
So, I wanted to know why someone would agree to something so outrageous. After all, even if you love someone, how could you successfully transition to a polygamous relationship without meeting all the players?
The deeper story was even stranger than I anticipated.
From the start, it was clear all was not as it seemed. There were lots of clues all over the place, which meant when the final reveal happened, it was shocking, but not a complete surprise.
Which is exactly the type of psychological thriller I like to read.
If you've been following my reviews, you already know I don't give out very many five-star reviews, but I in this case, I do.
Yes, I gave The Wives a 5 star review (which I rarely do). Read the full review here.
Click To Tweet
I thought The Wives was very well written, the characters were great, and the plot was seriously over-the-top twisted.
Grab your copy of The Wives by Tarryn Fisher on Amazon via the link below.
Check out my review at Lovely Audio Books.