Cursed Tides
She no longer wants to be a part of his world. But he must convince her to save it …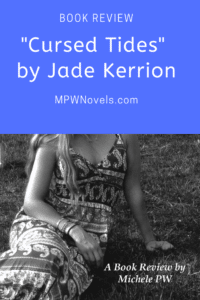 Ashe is one mission away from earning her soul. Nearly three centuries after her disastrous on-land escapade, the former mermaid has a final assignment: protect a marine biologist on his quest to save the oceans. Perhaps it's pure coincidence that Varun Zale is the descendant of the prince she once chose not to kill.
Varun can't explain how storms obey Ashe, or why her eye color changes to match the tossing waves, but he suspects she is more than the mute ship captain she pretends to be. His growing fascination leads him from the shallows of a fairy tale to the depths of a mystery older than recorded time. In the midnight reaches of the ocean, monstrous titans stir. An unstoppable disease becomes a weapon in the hands of the mer-king.
Nothing Varun has ever imagined or believed about mermaids is true. And being wrong could cost him everything …
This is the first book I've read by Jade Kerrion, who appears to be an author after my own heart: someone who loves blending a variety of genres, and in this case it's science fiction, urban fantasy, fairy tale, and mythology.
Cursed Tides is the first book in the Daughter of the Air series, and it's a retelling of the Hans Christian Andersen fairy tale The Little Mermaid. Now, I realize many folks think they know the fairy tale based on the Disney movie, but I can assure you that Disney changed a significant chunk of it.
What really happened to the Little Mermaid is she did NOT get the prince. Instead, she became a Daughter of the Air.
Cursed Tides begins after Ashe (the former mermaid) has been a Daughter of the Air for nearly three hundred years and has almost earned her soul. But she has one last mission before she can do that, which brings her to her contact with Varun, the descendent of the prince she chose not to kill.
It's a well-written book and the story is intriguing. My only criticism as a reader is that I felt a little removed from the story. That happens to me when I read third person sometimes. (Third-person books are written from the "he, she" perspective.)
I'm personally a big fan of first-person books (as three out of the four books I've written are first person, which are written from the "I" perspective), and for me, I feel like it's easier to get connected to the story.
Third person seems to be a bit trickier. Some authors are better at it than others, but again, this is probably more personal preference than anything else.
If you grew up reading fairy tales and Greek Myths like I did, you'll probably enjoy this compelling genre-bending brew. I would give Curse Tides by Jade Kerrion four stars. You can grab your copy below.