Then She Was Gone
Ellie Mack was the perfect daughter. She was fifteen, the youngest of three. She was beloved by her parents, friends, and teachers. She and her boyfriend made a teenaged golden couple. She was days away from an idyllic post-exams summer vacation, with her whole life ahead of her.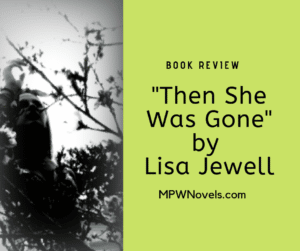 And then she was gone.
Now, her mother Laurel Mack is trying to put her life back together. It's been ten years since her daughter disappeared, seven years since her marriage ended, and only months since the last clue in Ellie's case was unearthed. So when she meets an unexpectedly charming man in a café, no one is more surprised than Laurel at how quickly their flirtation develops into something deeper. Before she knows it, she's meeting Floyd's daughters—and his youngest, Poppy, takes Laurel's breath away.
Because looking at Poppy is like looking at Ellie. And now, the unanswered questions she's tried so hard to put to rest begin to haunt Laurel anew. Where did Ellie go? Did she really run away from home, as the police have long suspected, or was there a more sinister reason for her disappearance? Who is Floyd, really? And why does his daughter remind Laurel so viscerally of her own missing girl?
Lisa Jewell's novel Then She Was Gone is a bit of a slow burn. But there IS a good reason for it, as it's a more complicated plot than most psychological thrillers/mysteries.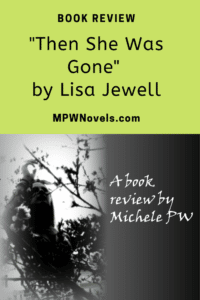 (Which also makes it a book after my own heart. If you've read my first novel, The Stolen Twin, you'll get what I'm talking about as that too has a more complicated storyline and unexpected ending.)
After completing the book, Lisa herself said she was either really on to something with the complex story line, or the plot was "just too insane."
In my opinion, it's both. The fact that the plot IS "out there" is what makes the book memorable.
If you're looking for a book that's off the beaten path and isn't what you expect, I would recommend giving Then She Was Gone a try.
HOWEVER, if you do try it, give it fair a chance. It takes a bit before the book even starts to sound like a psychological thriller instead of women's fiction, while Laurel heals from the loss of her daughter. (In fact, it took so long to start getting into what I would consider the "meat," I went back to Amazon to read the description to make sure I had downloaded the correct book.)
But if you stick with it past that part, it's worth it.
I'd give it four stars.
Lisa Jewell's book, Then She Was Gone, is a bit of a slow burn but worth it. My full review here.
Click To Tweet
You can grab your copy of Lisa Jewell's Then She Was Gone on Amazon right here:
This is my Review of the Month for the review collection on LovelyAudiobooks.info