A few years back, I discovered that if a lake is cold enough, and deep enough, it doesn't give up its dead.
In other words, if someone drowns in that cold, deep lake, their bodies will rarely surface.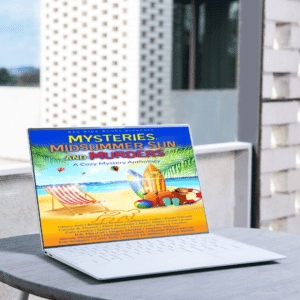 Needless to day, the mystery author in me was delighted to learn such a morbid fact, especially when I also learned that many bodies in the Great Lakes often disappear, including Lake Michigan which is right next to Wisconsin (and close to where Redemption and Riverview are located).
I tucked that little tidbit away until the day I was invited to be in my first cozy mystery anthology, Mysteries, Midsummer Sun, and Murders.
As it's a beach cozy, I thought what would be better than to put a cold deep lake in Redemption, because OF COURSE, Redemption has a cold, deep lake that doesn't give up its dead.
I named the lake Angel's Lake, as I based it very loosely on Devil's Lake (which is a very beautiful and clear lake located near Reedsburg, Wisconsin, which is my inspiration for Redemption). When I say loosely based on Devil's Lake, I truly mean it–Devil's Lake is a shallow, warm lake, nothing like the cold, deep lake in my fictional town.
So, I had my lake figured out. Now, what was I going to do with it?
Well, since it's a cold, deep lake, why not put a Loch Ness Monster in it? (As part of the reason why the legend of Loch Ness Monster won't die is because where the monster lives is in a very cold, deep lake–so deep, no one has found the bottom yet.)
This IS Redemption, after all, so of course there might be a monster in the lake. In fact, there's probably many crazy things in there, which I'm sure we'll be exploring in future Charlie books.
But, in the meantime, we have Lochy (which is Redemption's nickname for the monster, in Scotland, it's Nessie and in Redemption, it's Lochy).
If you want a sneak peek of Loch Ness Murder, check out the first chapter here.
And here's where you can pick up the full anthology.
Every story has its own story. The behind-the-scenes story of how it got written. This is the story of Loch Ness Murder, part of the Mysteries, Midsummer Sun and Murders cozy anthology.
Click To Tweet