Murder Among Friends, book 4
Five friends go into the woods. Only four return.
I've always had a soft spot for "locked door" mysteries or mysteries with a limited cast of suspects.  (A locked door mystery is one that takes place in a limited location, like a house or a single room, with a limited cast of suspects. While getting lost in the woods isn't technically a locked door, the essence feels similar to me.)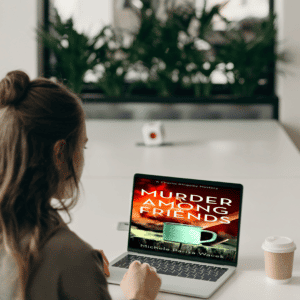 As someone who has a horrid sense of direction, I've always had a bit of a love/hate relationship with the forest. While I do enjoy hiking (although I'm not a big camper and would prefer to return to a hotel or a glamper after spending the day in the woods) I'm always a little nervous I'm going to get lost.
Combine that with my love for a good "vanished" storyline (where someone goes for a walk or a drive and simply vanishes without a trace—did they disappear on purpose? Were they taken? Did they get lost? Did they suddenly get amnesia and forget who they were? So many possibilities) I would find myself spinning a "what if someone disappeared" storyline as I hiked.
So, it was inevitable I would write a story about a visit to the woods going very, very wrong. (And I doubt it will be the last time I venture back into the woods for another mystery.)
The second theme I wanted to explore with Murder Among Friends Book 4 in the Charlie Kingsley Mysteries, is peeling back the layers and layers of secrets. Especially the secrets that manifest when we lie not only others, but to ourselves.
I won't share any more about that, as this is a no-spoilers blog, but secrets is always a big theme for me and one of the reasons why I love the psych thriller/domestic thriller and mystery genre so much.
Lastly, I really want to build out the rich Redemption lore.
Along with writing Book 5 in this series, The Murder of Sleepy Hollow, I'm also starting to plot a 3-book arc in the main Secrets of Redemption series, where I start to answering some of the lingering questions, as well as open the door to more books and series in the Redemption/Riverview world. For now, I feel like I've barely scratched the surface and I want to delve more into all the secrets and lies in that universe.
This book is one more piece of that puzzle.
In addition, you'll also meet a couple of new characters—Tiki, the toy poodle, and the powerful Duckworth family. I introduce the Duckworth family in The Taking, but you certainly don't need to read The Taking to understand this rich and powerful Riverview family. However, if you want to continue to follow how the series unfolds, I invite you to check it out.
Here's where you can learn more about the Murder Among Friends and grab your copy.
Every story has its own story. The behind-the-scenes story of how it got written. This is the story of Murder Among Friends.
Click To Tweet