I'm often asked "What is a cozy?"
Let's start with the technical definition. The term describes a subgenre of mystery novels that are characterized by a lack of graphic violence, sex, drug use or foul language. They emphasize the puzzle aspects of a crime, rather than the darker elements. In addition, cozy mysteries typically take place in small communities with funny or colorful side characters that help the amateur sleuths solve the crimes. In many cases, cozy mysteries also feature another theme that has nothing to do with the mystery, such as cooking/baking, pets or crafts.
The first part of that definition is a hard and fast rule. No graphic violence, sex, drug use or foul language. It's also important that the mystery be a puzzle that will be solved by the amateur sleuth.
But, there's also some flexibility. For instance, some people think the amateur detective has to be female.
While that is certainly the case in most cozies, I don't agree that they always have to be. A few of the Hercule Poirot novels can be considered cozies, such as Murder on the Orient Express or The Murder of Roger Ackroyd. I'll talk more about Agatha Christie in a second.
You will also rarely find standalone cozy mystery. They're typically a part of a series, which many readers love. You get to read within a familiar atmosphere from book to book. Plus, you learn a bit more about the main character, or other regulars with each book.
Some authors include sub-plots in their books that resolve over the series arc. Louise Penny does this with her Chief Inspector Gamache books, (which I would classify as a combination police procedural/cozy mystery). It's now a television series called "Three Pines" (you can find it on Amazon Prime).
Does the cozy mystery have to be a murder?
No! Although…mine are. That said, I just finished reading a short story by a fellow cozy author that was about a peacock that went missing! Time for our amateur sleuth to jump in and find that missing bird.
The puzzle doesn't have to be a murder, but it should definitely be a puzzle. And, for the most part, solving the puzzle will be told from the sleuth's perspective. I had read somewhere that if the sleuth doesn't know about an aspect of the puzzle, then the reader won't as well.
When was the term "Cozy" first used?
I'm not sure when the term "cozy" was first introduced, but it's been pretty recent. That said, there are novels that fit the genre we now call cozies that were written more than 100 years ago. Many people credit Mary Roberts Rinehart as creating the first cozy, the best known is "The Circular Staircase", her first published book she released in 1908.
She's known as the "American Agatha Christie." Rinehart was indeed publishing books over a decade before Christie, who's first published book "The Mysterious Affair at Styles" was released in 1920. All that said, when I think about the origin of Cozies, I tend to think of Agatha Christie. It probably has to do with the fact that she has sold over a billion books in English alone, and another billion in other languages. Her website claims that only the Bible and Shakespeare have sold more books.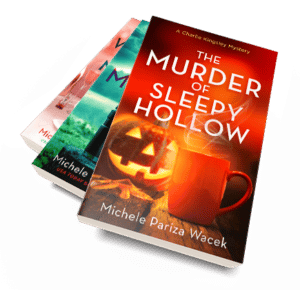 Fast forwarding to today, and we are seeing subdividing of the cozy mystery genre. We have culinary, cat, dog, historical and crafts/hobby cozies. I imagine more are on the way. My Charlie Kingsley series would be considered a culinary cozy, Charlie makes teas from herbs she grows in her garden. She's also quite the foodie and cook. I'd classify her forays as a tea cozy, a subset of culinary.
If you're not into gore, violence or the dark side of murder (or just want a change of pace), pick up a cozy and give it a try!