The Wife Between Us
When you read this book, you will make many assumptions.
You will assume you are reading about a jealous ex-wife.
You will assume she is obsessed with her replacement—a beautiful, younger woman about to marry the man they both love.
You will assume you know the anatomy of this tangled love triangle.
Assume nothing.
I picked up The Wife Between Us by Greer Hendricks and Sarah Pekkanen a number of months before I actually read it. (Yes, I admit it, I get nervous if my To Be Read List gets too small.)
Which in retrospect was a smart idea, because I had completely forgotten about the description by the time I started the book.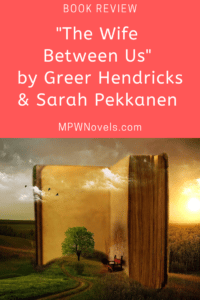 As it was, I figured out the twist pretty quickly. (And, to be the fair, the big reveal happened in the middle of the book, which was interesting.)
But, this is one of those books that remains enjoyable regardless of figuring it out.
There were still things that happened in the second half of the book that tied everything together and were interesting to read about.
I know it's classified as a psychological thriller, and the description makes it sound like one. In reality, though, I would probably call it part psychological thriller and part regular thriller. (I define a "regular" thriller in that the mystery isn't necessary driving the story, you "know" who the bad guy is, but what you don't know is how it all comes together.)
The book is well written, and the characters are interesting and believable. The ending wraps up all the loose threads. I don't really have any criticisms other than it wasn't solely a psychological thriller.
Not precisely a psychological thriller but still enjoyable. Book Review: The Wife Between Us by Greer Hendricks and Sarah Pekkanen.
Click To Tweet
I would give The Wife Between Us by Greer Hendricks and Sarah Pekkanen four stars. You can pick up on Amazon at the link below.