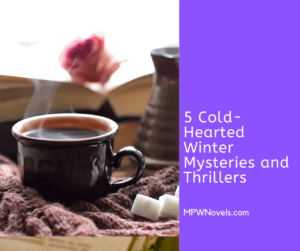 There's nothing more satisfying than curling up under a big, fluffy blanket in front of a roaring fire as snow falls outside, with a yummy cup of tea or glass of wine and a good book.
Ah. Just heaven.
And, it's even more satisfying when the book you're reading takes place in ice and snow.
So, just in time for winter, let me share with you five cold-hearted winter mysteries and thrillers, perfect for this time of year.
5 mysteries and thrillers perfect to enjoy curled up under a cozy afghan as the snow falls from the sky.
Click To Tweet
In a Dark, Dark Wood by Ruth Ware
There's nothing like spending the weekend in a remote cabin covered in snow … with a killer hiding in the woods. If that doesn't get your heart pounding, nothing else will. A twisted psychological thriller set in a backdrop of the English countryside in the dead of winter.
The Shining by Stephen King
So, yes, this book is considered more horror than mystery or thriller. But, I've always felt like it was far more than that. What it's really about is the fall of an abusive man.
This was the first Stephen King book I ever read, back when I was about eleven or so. I went on to read many, many of his books, but this one always stuck with me. And, of course, you can't beat being in an abandoned, haunted hotel in the dead of winter with a snowstorm outside and no way to leave. Yikes!
Northern Lights by Nora Roberts
A decades-old mystery is revealed in a tiny town in upstate Alaska. I constantly felt like I needed to bundle up reading this book. Roberts does a wonderful job describing the beauty and danger of living in the frigid temperatures of Alaska.
A Fatal Grace: A Chief Inspector Gamache Novel by Louise Penny
Louise Penny's series takes place in a small town called Three Pines, which is located in Quebec. (Not all the books in this series are set against a winter backdrop, but a number of them are.) This one in particular takes place right around Christmas, so it's perfect for this time of year.
Mirror Image by Michele Pariza Wacek
A serial killer story set in a desolate, cold and grey Wisconsin winter. The weather definitely matches the tone. This is actually the first book I ever wrote, although I published it second. You can read more about the book, and my journey, here.
Now it's your turn. Do you have a fave cold-hearted mystery or thriller? Share in the comments.