Growing up, watching mystery and detective television shows, like Murder She Wrote and Matlock, was a staple in my house.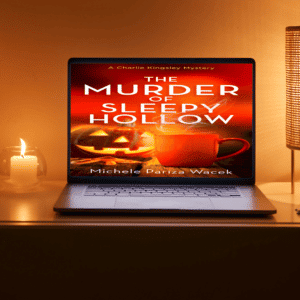 And this time of year was always my favorite because they would usually incorporate some sort of ghost story or unexplained supernatural element to the mystery. (Of course, all the loose ends would also be neatly tied up at the end.)
When I started writing The Charlie Kingsley Mystery series, I think I always had it in the back of my head that I wanted to do a similar story, mixing a haunted house/ghost story with a mystery, although Redemption is already filled with haunted houses and ghost stories, so what could I do to make it stand out and more Halloween?
Well, what about using Washington Irving's The Legend of Sleepy Hollow as inspiration?
The Legend of Sleepy Hollow was always one of my favorite Halloween stories. I love a good spooky ghost story, although I don't like gore, and Irving's story is perfect for that.
It has all the creepiness and nothing gross. Sign me up!
(On a side note, this is also my issue with Halloween overall. As much as I love this holiday, I can't stand the gross out factor, so I've always had something of a love/hate relationship with Halloween.)
So, back to The Murder of Sleepy Hollow, which is Book 5 of The Charlie Kingsley Mystery series, I decided to take a take the Irving's masterpiece and turn it on its head. It's both a ghost story AND a mystery all wrapped up into one.
I'm also starting to set the stage for a few bigger series arcs. Charlie's complicated relationship with Officer Brandon Wyle is one, but there's more issues seething beneath the surface in Redemption that are going to start to come to the surface over the next few books.
My plan is to always write the books in this series as standalones, so you can jump in anywhere, but if you want to get the full series arc, it would probably be better to read them in order.
Here's where you can read more about The Murder of Sleepy Hollow and grab your copy.
Every story has its own story. The behind-the-scenes story of how it got written. This is the story of The Murder of Sleepy Hollow.
Click To Tweet