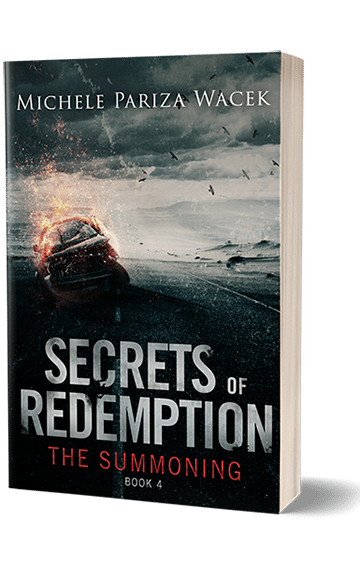 $4.99 (Or you can read for free in Kindle Unlimited)
Publisher:

Love-Based Publishing

Available in:

Paperback, Kindle

ISBN:

978-1945363207

Published:

October 27, 2020
Get it on Kindle or Paperback
Book 4 in the Award-Winning Secrets of Redemption series!
None of this was supposed to happen.
It all started so innocently. Charlie only stopped in Redemption, Wisconsin, because she was lost.
She never meant to stay.
She never meant to fall in love.
She never meant to bring the danger she was running from into this wholesome midwestern town.
Except Redemption had some secrets of its own … and they were even more deadly than what she was trying to escape.
The Summoning is Part 1 of Charlie's story and it does end on a cliff hanger that is resolved in The Reckoning (now available for pre-order for a Dec 29, 2020 release).
2018 PRG Reviewers' Choice Book Series Winner
"We can only hope there is another EVIL series lurking somewhere in our future – if we can stand the suspense and survive the wait….but I recommend not venturing into any old basements or locked rooms while you wait!" 

Paranormal Romance Guild
Check out Book 1 It Began with a Lie, Book 2 This Happened to Jessica and Book 3 The Evil That Was Done. You can also grab the full box set right here.
Want a sneak peek? You can check out an excerpt here. You can also read the story behind the story here.
In a book club? You can download book discussion questions right here.
Animation: Morgan Wright; Music: GeeGee Music Productions