Mirror Image
Lots of excitement here in PW land as we're getting ready for the big launch of "Mirror Image."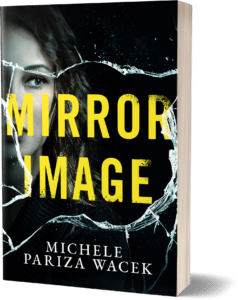 You can grab your copy right here.
And, just like "The Stolen Twin," this novel has quite a backstory too.
It all started when I was a teenager and on a family vacation in New Hampshire. While there, we took an afternoon cruise on one of the local lakes, and that's were the idea first came to me.
I first thought it was a short story, revolving around Elizabeth taking a lake cruise during a family vacation. (You can read a version of this short story in the novel — it's one of the "Elizabeth" chapters.)
After I wrote it, I wasn't really happy with it. Something felt off. Like it wasn't complete. So, I made it longer and turned it into a novella — still with Elizabeth as the main character.
But, I still didn't think it felt right. I kept turning it over in my head, trying to figure out where I was going wrong. And every time I did, I kept seeing Linda, Elizabeth's sister, who had popped up rather unexpectedly as I was writing the short story.
Linda haunted me. Until one day, I figured it out. This wasn't Elizabeth's story — it was Linda's. And it started after Elizabeth's death.
The pieces fell into place and I began to write in earnest. It took me five years.
Once I finished, I went to a big writing conference where I met an associate editor from Bantam Dell who loved the idea and wanted me to send her manuscript. I also found an agent there, who was excited about representing me. (Of course, I had done the hard work by pitching an editor — but I was too starry eyed by the idea of having an agent to question it much.)
But, the agent wanted me to do some more editing before she sent the book to the editor. She wanted me to chop out the "Elizabeth" chapters along with a few other scenes.
I didn't want to do it. My intuition told me not to do it. But, I also didn't want to be one of those "difficult writers" either. So, I squashed down the little voice telling me I was making a mistake and did what the agent asked.
Needless to say, the book was rejected. And my agent wanted me to work on another book rather than shop the first one around. (Which I did. Remember, I didn't want to be one of those "difficult writers.")
The second book was also rejected.
But that Bantam Dell editor wrote me a very nice email. She really loved the idea of "Mirror Image" but as much as she really wished she could buy it, it just wasn't right.
My agent's advice to me after that was to write a third book. I actually did start a third book, and then I just petered out. I was so discouraged. I couldn't do it anymore.
Now, if you read the story behind the story for "The Stolen Twin," you'll remember that bad advice I got from the retired copywriter who told me NEVER to tell any of my clients I was writing fiction because I wouldn't be taken seriously. So, between my frustration over what was happening on the fiction side coupled with this copywriter playing into my fears I wouldn't be taken seriously, I just stopped writing fiction.
And there my books sat. In my computer. Gathering dust.
Until now. Because Amazon and the Internet has made it so much easier for authors to get their work out there regardless of what the publishing houses dictate.
So, before publishing "Mirror Image" I had to stitch it back together. I put back everything the agent told me to take out. (And when I did that, I realized why that editor had rejected it — the book didn't hang together with me just taking out the Elizabeth chapters. What I really needed to do was a pretty big rewrite, but that also would have changed my vision for the book.)
As I did that, however, I realized there were still things I didn't get right, so I ended up doing additional editing.
So, in a way, I have that agent to thank. If she hadn't had me take out the Elizabeth chapters, I never would have seen the holes. It's a stronger book now. For that, I'm grateful.
"Mirror Image" literally haunted me for over two decades, and even though it took me two decades, I stuck with it and eventually it came together.
At the end of the day, it's never too late to get something right. So, if you too are haunted by something, I don't care how long it's been, you still can pick it back up and make it right.