Secrets of Redemption
Wow, 2017 has been flying by. I've been hard at work on a brand new psychological thriller/suspense/mystery series "Secrets of Redemption."  The first book "It Began With a Lie" is complete and I'm in the middle of Book 2 "This Happened to Jessica."
I even have a cover and a description of "It Began With a Lie!" Check it out:
A fresh start.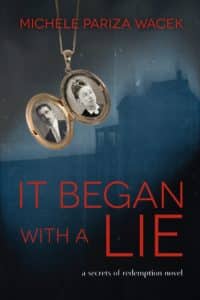 That was what Becca hoped the move from New York to Redemption, Wisconsin would be for her troubled family. A way to get her crumbling marriage back on track, and to bond with her difficult 16-year-old stepdaughter.
But instead of a new beginning, Becca is thrust into the mysterious past she barely remembers, as she is now living in her aunt's house (or what the locals call "The Witch House").
But is the house really haunted? Or is there something far more sinister out to destroy them?
Are you excited yet? I know I am — I can't wait to get the book out there.
Alas, in the world of publishing, nothing is as simple as that. My PR agency has recommended I wait until all 3 books are done before I publish the first one, so right now I'm on track to launch all 3 books next summer. (I'm shooting for beginning of June, 2018 for this book).
Keep an eye on this blog (or, better yet, join my email list) for more details as we get closer to launch day. Talk soon!