The Woman in Cabin 10
One night on a highly-exclusive luxury cruise with only a handful of cabins, Journalist Lo Blacklock witnesses what she can only describe as a dark and terrifying nightmare: a woman being thrown overboard. The problem? All passengers remain accounted for …
"The Woman in Cabin 10, " a mystery/thriller by Ruth Ware, was one of those books I really enjoyed … until I didn't.
First, what I loved: the set-up. I mean, talk about intrigue—stuck on a boat in the middle of the ocean and seeing someone thrown overboard, but then no one is missing?
What happened? Who was thrown overboard? WAS someone thrown overboard? Or is there something else going on with Lo?
These are the types of questions I find completely irresistible. They're like catnip is to a cat.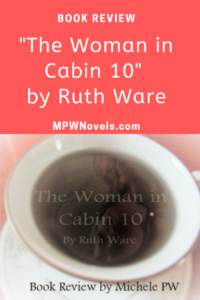 And, for the first three-quarters of the book, Ruth Ware doesn't disappoint. She does a masterful job at setting the stage and creating the right mood. Everything seems almost perfect on the surface … almost! … yet there's a disquieting feeling just below that all is not as it seems.
But then the "secret" is revealed a little too soon, and the book turns from mystery to more of an action/adventure.
Now, don't get me wrong; I love mixing genres (I do that in my own novels ). But, typically I like my novels to make it clear from the beginning that they are a combination of genres, as well as which ones they are.
To me, it's about setting expectations and continuing the conversation you started with the reader. Sure, I enjoy action adventure, but I wasn't expecting it in this book. So, iIt felt like the author switched conversations with me in midsentence.
Anyway, despite how I started this review, overall I did find The Woman in Cabin 10 compelling and worth reading—I'd give it 3-3.5 stars. (Also, you may want to check out my review of "The Lying Game" by Ruth Ware here.)
The Woman in Cabin 10 by Ruth Ware was one of the books I liked ... until I didn't. Read my full review here.
Click To Tweet
The link Amazon.com is below if you want to grab your copy: