The Good Girl
One night, Mia Dennett enters a bar to meet her on-again, off-again boyfriend. But when he doesn't show, she leaves with an enigmatic stranger. At first, Colin Thatcher seems like a safe one-night stand. But following Colin home turns out to be the worst mistake of Mia's life.
"The Good Girl" is the second book by Mary Kubica I decided to read, and it was most definitely the reviews that convinced me to give her writing a second go.
Specifically, the reviews from her "Don't You Cry" novel.
You see, I read "Don't You Cry" first, and I really didn't care for it. But, I knew "The Good Girl" was her most popular book (it was in all the advertisements for "Don't You Cry"), and when I went back and looked at reviews for "Don't You Cry," I saw a similar theme that "The Good Girl" was so much better than "Don't You Cry."
So, I decided to read give "The Good Girl" a try. And, it was MUCH better.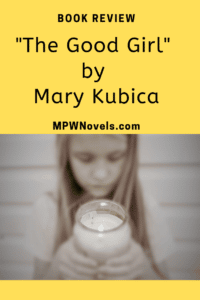 This is a kidnap-gone-wrong story, and there's a lot of time shifting as well as character shifting. Most of the book is told from the point of view of three characters: Colin (the kidnapper), Eve (Mia's mother) and Gabe (the detective). The plot jumps back and forth between two time periods: during the time Mia was kidnapped and after she returned home.
All of this could have been a recipe for disaster. Trying to keep the plot and characters straight (it's all in first person) with that bouncing around could have easily turned into a train wreck.
But, Mary Kubica manages to pull it off, and make it look easy in the process.
I also thought she did a decent job developing all three of her characters. It's not easy to jump between multiple characters in first person and not have us (the reader) feel like we're still reading the same character, but she did a good job. (The best author I've seen accomplish this was Barbara Kingsolver in "The Poisonwood Bible." I have yet to read anyone who mastered that skill as well as she did in that book. But Kubica did a nice job.)
The only reason why I gave The Good Girl a try was because of the reviews. My full book review here.
Click To Tweet
It had a nice plot twist at the end (which I figured out, but it was still a nice twist). Overall, I'd give it four stars.
Here's the link to check it out on Amazon: