Today's Author Spotlight is on moi, who wrote Mine, in the thriller anthology, Make Them Pay!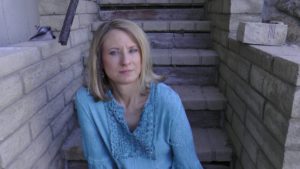 You can check out my full bio here, but the highlights are I taught myself to read at three years old because I wanted to write fiction so badly. Writing was such a passion for me I ended up pursuing many different types and styles (copywriting, blogging, article writing, etc.) which have all contributed to my love of writing fiction.
Let's dig into to the rest of the questions.
Q: Tell us a little about your story in Make Them Pay!?
A: I wanted to write a standalone short story that still took place in Redemption and echoed some of the creepiness of the town. Unlike some of the other authors, who had tied their stories to their series through a character, I wanted to see what would happen putting different characters in the same location. It actually worked out better than I thought it would.
Q: What was the inspiration for your story?
A: It was actually the title and theme of the anthology, Make Them Pay! I wanted to see if I could turn it on its head. (Because when you write psychological thrillers, you're always looking to turn things on its head.) I've never written anything like that before and it was really fun.
Q: When did you start writing and/or publishing?
A: I started writing as soon as I could figure out how to write (before that, I was drawing little pictures, my happy-faced spiders I called them). Publishing took a little longer. While I had my first two books written in the early 2000s (The Stolen Twin and Mirror Image) I didn't actually publish them until 2015. And the first book I ever published was in 2014 and it was a nonfiction copywriting book Love-Based Copywriting Method.
Q: Why thrillers?
A: Because I seem to be incapable of writing anything that doesn't have a mystery or a long-buried secret or a monster hiding under the bed.
Q: Who are your favorite thriller authors to read?
A: There are just so many. Growing up I read tons of Tami Hoag, Dean Koontz and Stephen King (I know King is technically horror but he has a lot of psychological suspense and thriller elements to his work, especially his early books). Gone Girl and Girl on a Train were fabulous, along with new favorites such as books by Natalie Barnelli and Ruth Ware.
Q: Were your friends or family members nervous hanging around you once they read one of your books?
A: One of my good friends (who loves creepy thrillers and mysteries by the way) has often told me I seem like such a nice girl to have written such books. Some of my other friends, who first knew me as a copywriting expert, also have read all my books and every now and then, they'll give me a side-eyed look and say "I have no idea where you come up with those stories," which makes me wonder if maybe authors who write under pen names are on to something.
Q: What's your favorite non-reading, non-writing activity?
A: Spending time in nature and with animals. Things like doing dog activities with the pup (although currently that consists of a lot of walks around the neighborhood) and watching the hummingbirds guard their hummingbird feeder.
If you want to check out my story along with the other 21 top thriller authors, here's where you can grab your copy of Make Them Pay!
Discover the inspiration behind the story author Michele PW (Pariza Wacek) included in the Make Them Pay! thriller anthology.
Click To Tweet