Ep 2: Ghost Hunters in Hassayampa Inn
[podcast src="https://html5-player.libsyn.com/embed/episode/id/6684004/height/90/width/450/theme/standard/autonext/no/thumbnail/yes/autoplay/no/preload/no/no_addthis/no/direction/forward/" height="90″ width="450″ placement="top" theme="standard"]Our first stop as ghost hunters was the Hassayampa Inn in Prescott, Arizona.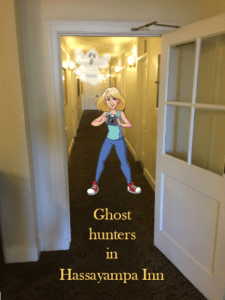 According to local legend, in 1927, Faith was the much younger, new bride of an older gentleman, and they chose the Hassayampa Inn in Prescott, Arizona to honeymoon.
Faith's husband went out to buy cigarettes and never returned.
After a few days of wailing and teeth gnashing and hair pulling and garment rending and other acceptable forms of grieving for women back then, Faith lost faith, and hung herself in the honeymoon suite.
Apparently, people have reported seeing her body from the street.
Guests and staff have also claimed to have seen Faith's ghost (crying at the end of the bed, dressed in a pink gown in the hallway, disappearing into rooms), along with other unexplained incidents (lights going on and off, and cold spots).
You know, all the "normal" haunting-related things.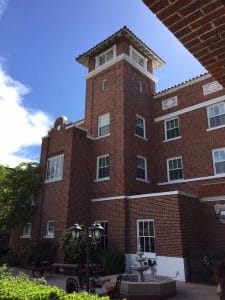 "They're even pet-friendly," I announced to Geist, my dog (pronounced GUY-st, meaning "ghost" in German).
Geist looked mildly interested.
But … I wasn't staying at the Hassayampa Inn. Did I really want to walk in the lobby with a dog? Or would that be too much of a distraction?
"What do you think?" I asked. "Do you want to come? Or is it just going to be weird?"
Geist sighed loudly and put her head down.
"Yeah, you're probably right. You should stay here and keep an eye on things," I said as I collected my ghost-hunting items (which consisted of a blank notebook and a pen — I hadn't quite gotten a handle on the whole ghost-hunting equipment thing yet) and prepared to head out of the second-hand camper I had bought just for ghost hunting.
(My first purchase, when I become a famous ghost hunter, would definitely be a motor home. This camper was just way too small for Geist and me. Actually, maybe that purchase would come after hiring a professional driver. It took me half the day trying to back into this space in the RV park, until finally a nice, retired gentleman took pity on me and parked it for me. Embarrassing.)
The Hassayampa Inn was an absolutely beautiful older building set in downtown Prescott, which is an old mining town nestled in the mountains of Arizona. There's a ton of history in this historic town, as well as ghosts, so I thought it would be the perfect place to begin my new career as a ghost hunter.
They were definitely a little busy at the Hassyampa Inn. A number of people were checking in, examining maps and grabbing bellboys to help them drag in copious amounts of luggage.
Was this the right time to be asking about Faith? Or would I be shooed away as a bother?
As I hung back in the corner of the lobby, my phone rang. It was my sister Katie. I answered as I hurried outside, not wanting anyone to overhear.
"How's the vampire hunting?" she asked. From the background I could hear kids arguing. "It's my turn with the hammer! You always get everything first!"
"Hey," Katie said away from the phone. "You have to share or you're all going to your rooms. Sorry," she said. "Where were we? Oh, vampire hunting."
"I keep telling you, I'm ghosthunting," I said, impatiently.
"Oh, right. Well, you know, pregnancy brain," Katie said.
"Savannah is eight."
"Well, it takes awhile for pregnancy brain to go away," she said. "So, have you found any ghosts yet?"
"I'm here at my first haunted hotel," I said. "The Hassayampa Inn in Prescott, Arizona. The ghost's name is Faith."
"What happened to Faith?"
"She hung herself after her husband left her. He went to buy cigarettes and never came back."
"He probably didn't even smoke," Katie said. "That should have been her first clue."
"Do you think he actually told her he was going to buy cigarettes, or do you think that got added in later?" I asked. "I mean, now it's like a cliché that a spouse goes to buy cigarettes and never returns, but does that ever actually happen?"
"Well, there's probably a reason it's nowa cliché … because it did keep happening over and over," Katie said. "Hey, kids. Leave the cat's tail alone! I better go."
I hung up and went back in the lobby. One person sat on the couch and two people were checking in. There was no line. This was my chance.
I went up to counter. An older woman with tight, curly red hair and red glasses smiled at me. "Can I help you?"
I took a deep breath. "I'm here to talk about Faith," I said.
Her smile slipped a bit and she thrust a photocopied half piece of paper at me.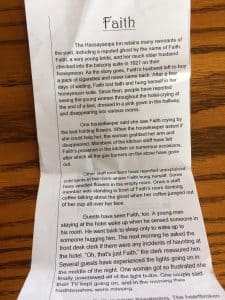 I took it. "Can I ask you some questions?"
"We're pretty busy," she said, not meeting my eyes.
This didn't seem to be going well. "Have you seen Faith?" I asked.
"I haven't," she said. "Are you checking in or not?"
"Can I see the floor where she hung herself?" I persisted. The people next to me gave me a sideways glance. I wondered if they had any idea they were staying at a haunted hotel.
She frowned, shaking her head. "If you're not checking in, I have to ask you to step aside and let us help paying guests."
Well. That didn't go very well. Dejected, I took my photocopied piece of paper and left the hotel.
My phone rang again when I stepped outside. It was Coco, my best friend.
"How's the ghost hunting?" she asked.
"Great," I said. Coco already thought I had lost my mind, quitting my job and embarking on my career as a ghost hunter. "I just met my first ghost. Faith."
"You met her?"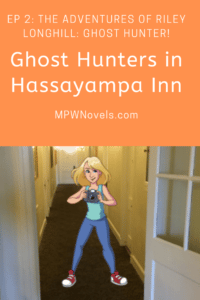 "Well," my voice faltered as I stared at my little photocopied piece of paper. "I'm at the Hassayampa Inn in Prescott, Arizona, which is where she hangs out and … haunts."
"So, what? Are you staying there tonight?"
"I … well, I hadn't planned on it," I said. "I have the camper, you know. And Geist."
"Oh, yes. Geist. Can't forget her. But, if you aren't going to stay there, how are you actually going to, you know, investigate?"
"Um." Oh boy. Coco brought up a good point. Maybe I hadn't thought this through as well as I should have.
Riley Longhill is a fictional alter ego of Michele Pariza Wacek. The Adventures of Riley Longhill, Ghost Hunter, is a fictional account loosely based on real life ghost and haunted places. Yes, the Hassayamapa Inn in Prescott, Arizona is a real place, Faith is an actual ghost who reportedly haunts the hotel to this day.