Force of Nature
Five women go on a hike. Only four return. Jane Harper, the New York Times bestselling author of The Dry, asks: How well do you really know the people you work with?
Let me begin by saying I love, love, LOVE the idea of "Force of Nature." Five women go on a hike and only four return. I love it SO much, in fact, that I may need to use something similar as a starting off point for one of my future novels.
The problem is, when I get soooo excited about an idea, it rarely lives up to the hype I have about it in my head, because invariably, I get a different idea about where the story should go.
(Don't even get me started on the first three Star Wars movies—not the original three but the  ones that were supposed to chronicle the fall of Darth Vader. Man, I wish I had somehow gotten the opportunity to write those movie scripts. But I digress.)
I very much enjoyed Jane Harper's second novel. (I haven't read her debut novel, "The Dry," but I will likely  check it out as well, now.)
One of the things I really like about "Force of Nature" is that the story is told via a series of flashbacks in addition to  stories from each of the returning women, who, of course, remember things differently.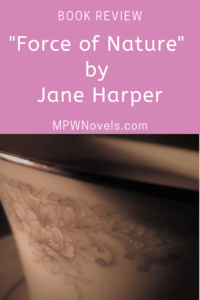 The premise: Five colleagues are forced to spend a few days together in the woods as part of a corporate retreat. Now what I didn't love about the story is that, while on the surface it seems believable, when you actually get into all the details, it starts to feel a little contrived.
The company is supposedly pretty big, so having only five women out there doesn't seem like enough. Also, it's a weird mix of people: very low-level admins on a trip with vice presidents? (I think I could have bought the mix of people if Harper had called it a high-level corporate retreat. While she does explain it in the book, it still rang a little hollow, in my opinion.)
As far as characters go, I'll tell you that Alice, the woman who disappeared, is just awful. But I don't mean that as a bad thing; it's always a nice twist when you have a character like Alice because it means there are a bunch of suspects and a lot of lying going on. In addition, there's a possible serial killer lurking, around as well.
Not to give away any spoilers, but there's an additional plot twist that emerge around the company itself, which to me also felt a little contrived. A part of me feels like I would have enjoyed this book a lot more without that added plot twist.
Force of Nature is Jane Harper's second novel and the concept is fabulous. Five women go on a hike. Only four return. Read on for the full review.
Click To Tweet
Overall though, I found it a solid and compelling read and would give it four stars.
You can grab your copy of  "Force of Nature" right here on Amazon: