Ugly Young Thing
Sixteen-year-erold Allie has already experienced a lifetime of horror, having lost her mother and serial killer brother to mental illness. 
Returning to her childhood home in Louisiana, Allie ends up in foster care and is placed with Miss Bitty, an eccentric but kindly older woman who shows her a new direction and brighter future.
But Allie's new life takes a devastating turn when young women in the area start turning up dead, and she begins to see shadowy figures outside her bedroom. As Miss Bitty grows inexplicably distant, a nagging voice makes Allie wonder if death has found her yet again … or if it never really left her at all.
"Ugly Young Thing" and "Don't Say a Word" are respectively book two and book three in Jaynes' "Stranger Series" (which begins with "Never Smile At Strangers"—book one).
So, as I mentioned in my "Never Smile At Strangers" post, my feeling is that this was never meant to be a series until years later. Part of the reason I think this is because the main character in books two and three is rarely mentioned in book one. (Basically, we only "see" Allie through the serial killer's eyes.)
The Allie in the first book and the Allie in the second two books feel like different characters.
Which is not to say it's bad. It's just … strange.
Books two and three also have a slightly different format. In book one, we were following several main characters. In the subsequent books, it's clear there's only one main character, Allie, and while we do sometimes get into the other characters' heads, it doesn't happen nearly as much in book one.
Also, reading the second book right after the first reminded me again why I spread out my "serial killer" fiction. I'm not a huge fan of spending copious amounts of time in a serial killer's head. I don't mind it in small doses, but after a while, it starts to depress me.
That's not to say I don't enjoy a good anti-hero story ("Breaking Bad" anyone?), but if I'm going to spend a lot of time with an anti-hero, I would prefer they didn't spend all their time stalking and killing women.
Check out my review of Ugly Young Thing and Don't Say a Word, both by Jennifer Jaynes. Different than the first but still interesting.
Click To Tweet
(On a side note, I have NO idea how authors write serial killer book after serial killer book when a good chunk of those books is from the killer's point of view. It would drive me batty. Although, perhaps Jaynes felt the same way, because the third book is NOT from the serial killer's perspective.)
Anyway, none of this is to say I didn't enjoy "Ugly Young Thing" or "Don't Say a Word" or this series. Hands down, I preferred the first book the most, but even though the next two books seemed to switch gears a bit, they were still enjoyable in their own way.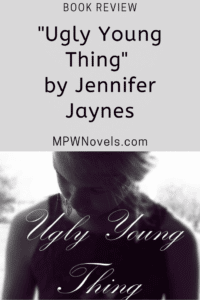 I would give both "Ugly Young Thing" and "Don't Say a Word" four stars. You can grab your copy of both here: