Fall Reading Challenge
It's here! My favorite time of year. The leaves are changing, there's a new crispness to the air, football is on the television, the best holidays are right around the corner, and pumpkin spice lattes are on the menu.
(Okay, I admit, I'm not very fond of pumpkin spice lattes. But … pumpkins!)
To me, there's no better way to celebrate the season than with a Fall Reading Challenge!
Unlike other reading challenges out there, this one is distinctly fall themed. From back-to-school to scary Halloween to Thanksgiving abundance, I've got you covered with all sorts of fun fall challenges.
And, to sweeten the pot, when you complete the challenge by December 31, 2019, send us an email with your completed answers, and you'll be entered into a drawing to be one of three lucky winners to receive your choice of one of my books.
(Read them all? No sweat; I'll send you one of my upcoming books.)
I've also added gifts for participating! You can grab yours here.
Let's get started with 13 (but of course!) fall book theme suggestions—read the book, and send me the titles and short descriptions. I also created a Fall Reading Challenge Reading Tracker to help you track your reading progress. (It's a downloadable PDF.)
What better way to celebrate Fall than with a Fall Reading Challenge! Check it out here.
Click To Tweet
A book that takes place in fall.
A scary book.
A book that mentions Halloween in some way.
A book with lots of food references. (Bonus if there's a Thanksgiving feast in there somewhere).
A book with a ghost.
A book from your "abundant" TBR (to be read) list.
A book that features a school in some way (either takes place in school or has a teacher or student as a main character).
A book you should have read when YOU were in school but didn't (or didn't finish).
A book with the color orange on its cover.
A book with some sort of football reference.
A book that "tricked" you in some way.
A book that was a "treat" for you to read.
One of my books. (Okay, not exactly a fall theme, but what can I say?)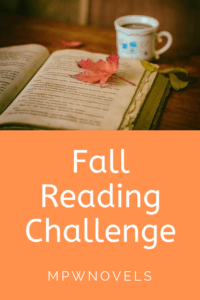 Happy Reading!