Just because you read a lot doesn't mean you're an actual bookworm.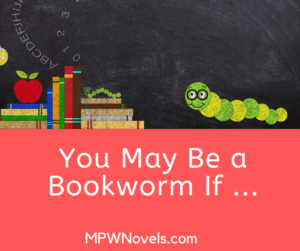 Bookworms are a special breed. They're not just committed to their books, they're attached.
(Like the joke around the eggs and bacon – the chicken is committed but the bacon is attached.)
And if you're wondering if YOU may be one of the very few who can call themselves a bookworm, check out the following statements below and see if they apply.
Are you a real bookworm or simply a pretender? This post can help.
Click To Tweet
You may be a bookworm if …
You find yourself constantly lying to yourself "I'm going to sleep as soon as I finish this chapter."
The most common statement you tell your family is "I'm almost done, just let me finish this page."
Your TBR (To Be Read) list never seems to shrink, no matter how many books you read.
You feel anxious if you don't have a huge TBR list.
Before Kindles, when you were packing for a trip, you would often find yourself loading up an extra suitcase with books "in case you didn't feel like reading/ran out of books/didn't like certain books."
Before Kindles, you always had a stack of "emergency" books in your house. (What if something happened and you ran out of books?)
Even with a Kindle, you STILL have way too many books in your house.
You would choose curling up with a good book over a party any day.
(Actually you would choose curling up with a good book over leaving the house. Ever.)
Your favorite characters are more real to you than actual humans.
More than that, you love those characters so much you sometimes read those books over and over again. (Sometimes you wish you could crawl into the pages and live there.)
And, finally …
You may be a bookworm if you can't bear to watch that Twilight Zone episode where the only man left in the world steps on his glasses.
How about you? Any other bookworm-worthy statement I need to mention? Comment below.